The aim of the Filtromex company is producing, selling and proving the technical support in the field of automotive, industrial filters and filters for motor appliances. Thanks to innovative technologies and constant improving of the Quality Management System we would like to launch products of the highest quality to the market.
One of the crucial elements of our quality policy is creating our corporate image as a reliable, credible and competent business partner. The cooperation based on above-mentioned values allows to develop our company and reach the customers satisfaction and also create profits to our customers, employees and owners as well.
We are aware of the fact that meeting our clients requirements connected with the quality is another goal of the development of our company. Technological progress, flexibility in cooperation, taking care of natural environment as well as qualified and competent stuff are those issues, which allow to meet above expectations.
The rules determined in a present policy apply all employees.
We intend to achieve the following aims:
Total customer satisfaction – complexity and high-quality service
Increasing the value of the company
Increasing the export to the countries of the West Europe
Management and permanent improving of the inner processes
Increasing the participation in the market through getting new clients and widening our range of products
Optimization of launching new products process
Up-to-date suppliers assessment and looking for new ones in order to effective fulfilling the goals of the company and customers as well as creating the supply chain
---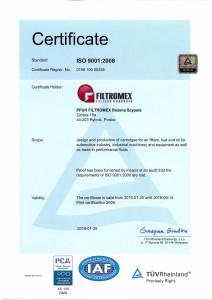 TRUST BASED ON QUALITY